Bring a Tune of Luxury with the Sound of Music
Fully-transparent crystal pianos bring luxurious feel to any home
See-through Grand Pianos by Netherlands-based Crystal Music Company (CMC) are world class instruments designed to add touch of a transparency to any luxury home.  The company is the world's only maker of handcrafted fully-transparent grand pianos since 1996. Created by designer Peter A. Tol, standard sized sensual see-through piano models are Boris (1.70m) and Cécile (1.90m). These musical devices are likely to become centerpiece of any contemporary home.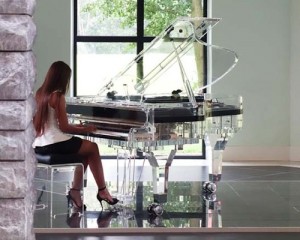 Made from transparent acrylic, these pianos are made to make quite the statement with clear structure. To ensure these instruments sound as good as they look, CMC prefers to use high quality components like Röslau strings, an Abel hammer produced by Helmut Abel GmbH, Strunz soundboards, Renner actions, and Dehonit pinblocks in their instruments.
Premium piano has components like German/Italian acrylic structure including beams, key-table and body. Hence, Crystal Grand Piano produces harmonious and spellbinding sound. On the other hand, Next generation Crystal Grand is made from very special acrylic from Acrylic Couture. It includes multiple colors and exclusive variations on the body. This means its frame, soundboard, rim and main lid- all can be painted in custom colors to match any interior.
Besides listening and enjoying harmonious tunes, musical connoisseurs also get a chance to see soundboard and frame of the instruments. So, people who keep wondering how those rhythmical sounds are made can closely observe intricate details lying inside these beautiful instruments.
Although the pianos boast fully-transparent design, but these instruments are not going to fade into the background. As inner parts of the pianos can be custom-colored to match interior of any opulent living space. This means one can personalize his/her piano design with desired print or pattern. So, the potential owners can choose from an any of these wonderful designs to match with their home interior.
For people with extremely high tastes and class, the pianos can be further embellished with 14/18 carat gold plated parts, diamonds, Swarovski crystals or other top grade gemstones. These instruments certainly will be the grandest and luxurious musical addition to any well-heeled musician's home.
The designs of crystal pianos are perfectly suited for glamorous hotels, mansions, or for people who want to admire the inner beauty of Grand Pianos. These high-end piano designs are meant to complement any modern home or studio setting. Deep-pocketed piano players can surely get their hands on any one of their desired crystal piano model.
For more information and details visit Panday Group website.