Luxury Coffee Machine by Scanomat Top Brewer
High-tech Scanomat Top Brewer conceals into any tabletop
Coffee lovers, the luxury coffee machine that have you ever wished for has arrived from Scanomat Top Brewer which brings a hot beverage dispensing tap in your kitchen. Just imagine- you get up in the morning, walk into your kitchen and get a strong cuppa joe from a tap to kick start your day. Well, the good news is that you dream has really come true in form of a luxury, high-tech Top Brewer by Danish coffee-machine-maker Scanomat.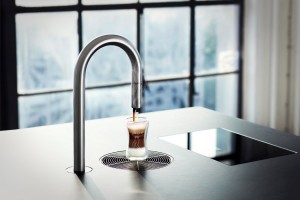 At first glance it looks exactly like a conventional water faucet, but its actually a coffee maker that conceals into any tabletop. Unlike regular coffee makers, the aluminum-bodied machine is stored inside a lower drawer unit, which brews and dispenses the hot fluids out of the stainless steel tap.
Tip of the tap contains three nozzles- one for milk, another for coffee and last one serves as a steamer. Moreover, all the functions can be controlled wirelessly via Android, iPhone and iPad devices, using its companion app. If you don't want to use the app, you may use the keyboard on the unit for serving same purpose.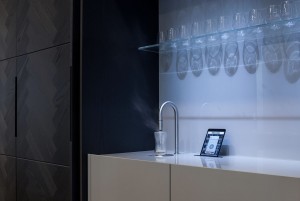 The smartphone-controlled Top Brewer comes with patented milk foamer that fresh milk is heated and foamed perfectly on demand. It also has an automatic cleaning system to rinse each hose after each cup is made. Apart from that, the brew unit is even capable of sliding in and out for quick refilling, and incorporates dual grinders. This means each cup of coffee can be made from fresh roasted beans. Plus, the coffee machine can even brew espresso, cappuccino, macchiato, and latte. So, it's indeed the best machine to keep experimenting with your Java, as per you mood.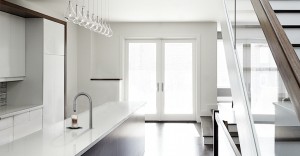 Another feature that makes it different from other coffee machines is that it completely shuts off when not serving coffee. And when you need your joe- it can instantly go from being cold and inactive to brewing a hot cup of coffee in mere 45 seconds. Due to this, power will not be utilized necessarily by this energy-efficient machine.
It is truly the best coffee machine that elegantly blends elegance, luxury and function together. If you're looking for sleek and deceptively stylish coffee brewer for your contemporary home, Scanomat Top Brewer is certainly the best choice.