Magic with the Safretti Fireplace
Safretti Magic Fireplace illuminates against Water for a Mesmerizing Effect
Safretti Magic Fireplace truly brings the question forward, Who said water cannot burn? Just have a look at this astonishing Magic Fireplace by Safretti, which illuminates against water. Yes, you read that right. It is one-of-a-kind magical fireplace that instead of bio-ethanol depends on water for igniting fire effect. Well, it is an electrical fireplace that's equipped with water reservoirs. These water reservoirs further fuel up the magical flames to add luxurious elegance to any contemporary home interior.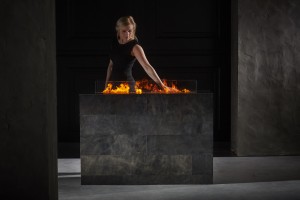 The fireplace comes with an evaporator that heats up water and turns it into fine water mist. As the mist rises up, the light reflects against the water, forming three-dimensional realistic flame effect. Magic Fire comes with a remote control that monitors the fireplace from any corner of a room. When illuminated, the unique patented technology creates magical illusion of realistic flames that seems to burn like real fire. The resulting fire looks so captivating and natural that it is quite difficult to distinguish it from real flame.
But unlike real flames, there won't be any fire risk. Moreover, if you even put your hands within the burning flames- it won't hurt your skin at all. Hence, it is 100-percent safe, child-friendly and CE-approved. Besides creating a stylishly extravagant appeal indoors, the gorgeous flames even maintain healthy indoor environment, as no harmful bio-ethanol or fuel is used for ignition. The vapors generated during the heating process can humidify a particular room, thus helps in maintaining moisture indoors even in dry winter months. This way the fireplace also has a positive effect on your skin and body.
Made out of high grade stainless steel, the Magic Fireplace is durable and burns for up to 6-8 hours on a full water tank. Due to it's compact size this fireplace can be placed anywhere inside an opulent interior, without even requiring a chimney. The fuel-less fireplace can be placed in any open space, but the burners have to be built in before. This makes it a stunning freestanding fireplace that's suitable for any modern indoor space.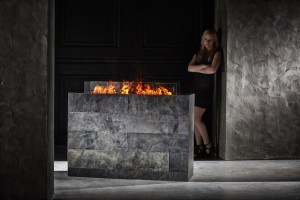 You can bring a single fireplace to your living space, or just use several units together to create stunning long line of electric fire. All these fireplaces kept together can be monitored via single remote. This gorgeous fireplace is idyllic piece of home decor and functionality that helps you to create extravagant dream home interior. Safretti Magic Fireplace is truly an epitome of style, design, class and authenticity. This stylish piece will certainly make any luxury abode more luxurious to look at.